Contact
North San Diego County YouTube updates from our County Supervisor Jim Desmond https://bit.ly/2Vg4pkS

We are now doing business in the North San Diego County area on an appointment only basis. When we pick up repair items remotely they will be photographed with the job ticket and e-mailed or texted to you, for your peace of mind. while we are working on your items.
I am usually through River Village Plaza in Bonsall, Monday's, to pick up my mail, call me first if you would like to meet in the Bonsall area.

Mail Address:
5256 S. Mission Rd., Suite 703, Bonsall, CA 92003

Phone: 760-726-7767 Call or Text (no voicemail)
This is George's phone number, if I don't pick up please text me, I may be driving or in the middle of a repair
.
Email: wardsjewelers@gmail.com

Custom Design & Repair
FREE ESTIMATES are given before any work is begun. When we pick up repair items remotely they will be photographed with the job ticket and e-mailed or texted to you, for your peace of mind, while we are working on your items.

Our specialty is working in Gold, but we can also work in Silver and Platinum.

Our skilled staff of designers and repair-stone setters, are able to fabricate custom designs to your desires, as well as take care of regular maintenance repairs.

We are also able to perform antique restorations. LASER welding is available for those delicate pieces.

Custom work does take time, so plan far ahead of your special occasions. Usually we have a lot of back and forth to be sure we are reading your mind correctly.

We also do machine engraving on jewelry or trophies. Hand-engraving is available if desired.

One thing we get asked a lot about, is how to deal with enlarged knuckle problems. There are a few different options depending on your individual problem and the ring style. If this is something you need to know about, please let me know so I can bring samples to show you.

Watch Repair
We no longer have an horologist on staff to care for your fine mechanical watches or clocks. But, I have over the years come to know qualified watchmakers in various fields of expertise, give me a call and I'll help guide you in the right direction for your timepiece.

We maintain a fresh stock of all popular watch batteries, most battery installation jobs run $10 to $15. Multiple battery watches will be quoted.
Bonsall Postal & Imaging, 5256 S. Mission Rd., Suite 703, Bonsall, CA 92003 is an authorized drop off location for watch battery service.


Current Metal Markets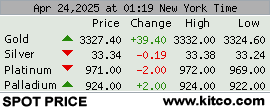 Merchandise
We still have merchandise, most one-of-a-kind, left from our brick and mortar locations. Styles date from the 1950's - 2010. If you're looking for something classic, we may have it.

- RINGS (colored stone & diamond, Ladies & Mens)
- WATCHES (Ladies 14K bracelet styles)
- LOOSE GEMSTONES
- PEARL STRANDS
- CHARMS (mostly sterling, some gold-filled)
- CHAINS & BRACELETS (gold & sterling)
- JEWELRY CLEANING SUPPLIES
- BROOCHES (gold, a few silver)
- WATCH STRAPS AND BANDS
- MORE - - - -

Just ask, we may already have what you are looking for.

GETTING MARRIED? I would suggest checking out LaMasters Jewelry in Temecula, they are an independent family run business that has one of the largest selections of engagement and wedding jewelry in the local area. www.lamasters.com let them know I referred you.
Catalog
We have made arrangements with one off our major suppliers to place their jewelry on our website,

You can build a cart of your favorites but you cannot accidentally place an order, instead you will "request a callback", and we will get back to you with final pricing, taxes & shipping, and arrange a payment method.

CATALOG